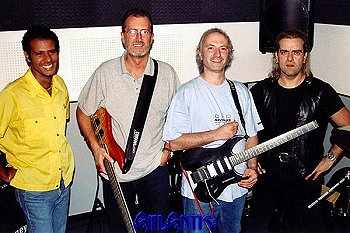 Gli Atlantis1001 sono, la tribut band dei RUSH riconosciuta a livello europeo ed esistono dal Giugno 1995.

Il loro programma è un tributo al mitico gruppo canadese RUSH ( hard Progressive Rock ) la loro brillante tecnica e l'ottima intesa musicale permettono agli ATLANTIS1001 di suonare questo genere così complicato.

La stampa li definisce come uno dei gruppi live più interessanti d'Italia.
atlantis1001 got together during the summer of '95, when renzo pedron (drummers with u.f.o.piemontesi, baccini, layout and svengali) and marco tomasini, grown tired of playing the same old covers that every rock band seemed to be confined to, decided to dump the whole set-list and head out to a far more ambitious project: a rush tribute band.
the canadian trio has always been a strong inspiration to both musicians and no one in italy had (nor has ever since) ever tried to put together more than a couple songs to perform live, mostly because the required musicianship is not easily found in the non-pro band circuit.
after a few rehearsals, luigi amadori -an old friend of marco- got the bass-player slot. after years of cranking out dancing tunes, he was just plain delighted to get the juices flowing and start playing some seriously challenging bass-lines.
a long list of songs got rehearsed, but a key element was still missing from the line-up: a singer able to reproduce geddy lee's high-pitched vocals. the search was a long and tedious one, until when -right out of the left field- alberto morosini blew the mike away with his powerful voice.
the band started gigging pretty heavily all around italy but, in the end of 1999, alberto decided to quit the band and his place was taken by alex ferrario, who also sung in a funky/fusion band, like his choice of stage garment clearly points out. :)
more shows were performed, while the band also started working on a number of their own songs. In 2002 luigi decided to step down for personal reasons and his place was taken by luca scansani, a friend of the band and helluva session man.
(foto e biografia tratte dal sito della band)